Buckingham Palace Banquet on display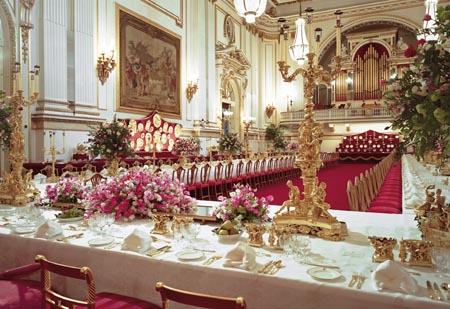 This year's summer opening of Buckingham Palace is even more special than usual. That's because this year, the Ballroom is set up as it is for a banquet.
One of the highlights of any State Visit to the United Kingdom is the State Banquet, held at either Buckingham Palace or Windsor Castle. At a State Banquet, Buckingham Palace's Ballroom is set up with a U shaped table and the 170 guests eat off the grand service made for King George IV.
Over the last century many of the great royal families of Europe were removed from their thrones, so magnificent sites like this are generally only in museums. From the 29th of July to the 29th of September 2008, visitors to Buckingham Palace will see a cut down version of the layout for a banquet. The tables will be laid with the magnificent grand service and around the side of the ballroom visitors will see additional silver gilt and porcelain from the Royal Collection.
The Ballroom at Buckingham Palace was added by Queen Victoria in 1855 to provide room for larger gatherings. When George IV started building Buckingham Palace he intended it only as a private residence so the largest room, the Blue Drawing Room was not large enough for the kind of balls that Queen Victoria wished to hold.
After Edward Blore's ugly East Front, a new architect James Pennethorne was chosen to design the new Ballroom and Ball Supper Room. The exterior of the new rooms was consistent with John Nash's original design for Buckingham Palace, but the interior designed by Prince Albert's artistic advisor Ludwig Gruner bore no relationship whatsoever to Nash's designs.
When Edward VII came to the throne Buckingham Palace had changed little in the previous 40 years. He immediately set about repainting many of the rooms in white and gold. One of these rooms was the Ballroom. The new colour scheme and additional remodelling substantially improved the room.
The Ballroom still suffers today from a lack of natural light, making it the darkest state room in the palace. But nothing can take away from the magnificence of George IV's grand service. A visit to the palace in 2008 is a once in a lifetime chance to see what only a few people will have the opportunity to see – one of the most magnificent palaces in the world, the way it was meant to be viewed, as a working palace.
For a video about the opening: http://news.bbc.co.uk/2/hi/uk_news/7524755.stm
If you want to learn more about Buckingham Palace its magnificent architecture and furnishings, check out the Buckingham Palace Virtual Tour. You can download an evaluation version from: Virtual tour of Buckingham Palace.